Recently the PR department of uCertify approached me and asked me to blog a review about their exam preparation kit. Since this is an interesting topic to me (see my posts Whizlabs vs. Enthuware, and Effective Enthuware) and since I would get a free simulator, I agreed.
uCertify produces preparation kits for many different IT certifications, including SCJA, SCJP, SCJD, SCWCD, SCBCD, SCMAD and SCDJWS. I got the one for SCBCD 5.0 (Sun Certified Business Component Developer for the Java Platform, Enterprise Edition 5, CX-310-091), which costs USD 59.99, to test it. I used the uCertify PrepEngine Version No: 12.21.05.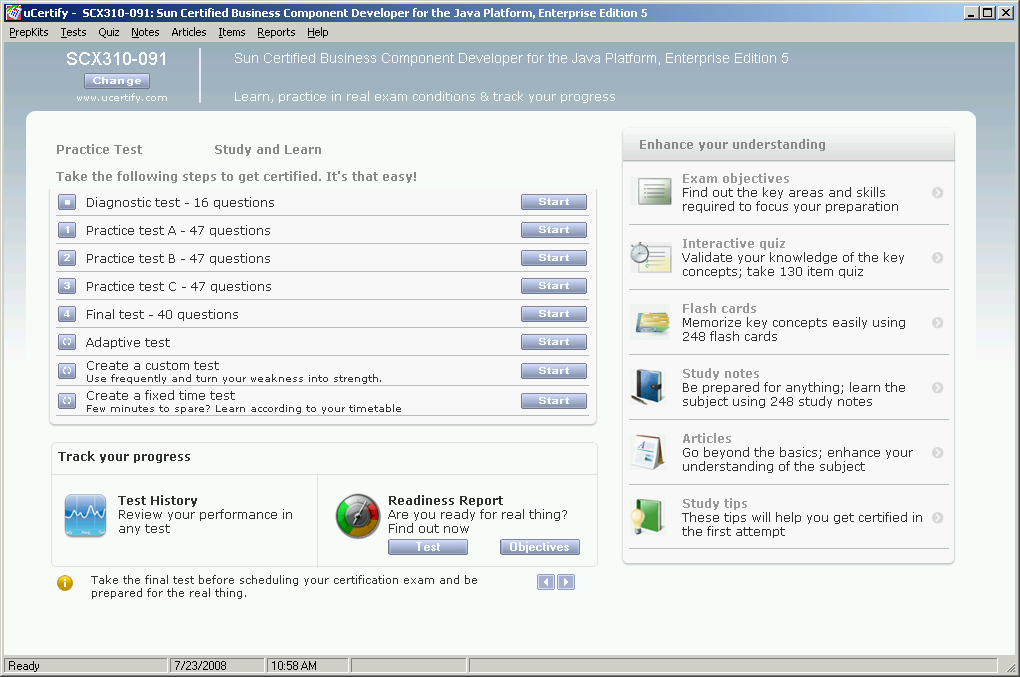 Strengths
A nice looking user interface with good usability, especially regarding all the little things. For example it is possible to click on the answer itself, not only on the checkbox next to it. Several keyboard shortcuts are available.
It has an optional study mode for every kind of test. When enabled, it says immediately which answers were wrong, rather than evaluate all answers only after they have been given. This provides a more harmonic way of learning and measuring progress.
It automatically shuffles the order of the answers. That's an awesome feature that I miss in Enthuware and Whizlabs! It prevents me from remembering the position of the right answer instead of really learning the right answer.
The explanations to answers are good and include diagrams where it makes sense.
Huge amounts of study material are included! It is not only a simulator, it is a full preparation kit, just as promised.
Aside from the option to study the topics using small articles in the style "What is the PreDestroy method?" and larger articles about complex topics, there is an interactive mentor that almost provides the feeling of having a real private teacher. In small chunks it presents the exam topic as specified by Sun, then explains it, and afterwards asks me a question about it to check whether I understood it.
There is a feature to discuss any single question with others, similar to a forum thread. Once there are more users this can be very useful. I tried it a few times, and it took more than a day to get my comments "approved". Hope that gets better.
Questions can be assigned a custom tag. For example I can give several questions the tag "unsure" or "do again before exam" and then create a custom test based on the tag. I would highly recommend to use this feature to assign box IDs according to the Leitner System, similar to how I described it for Enthuware in Effective Enthuware. (Note that numbers and short names are problematic, so use for example "bbbb" for box 2.)

There are lots of features which I didn't cover in this review, because there are so many. I covered the ones I considered important to my way of learning, but one of the other ones might just be the feature you always wanted.
Question quality and exam topic coverage: I trained for a section using Enthuware until I was able to answer all questions in Enthuware corectly. After that I tried questions for the same topic in the uCertify simulator. I passed on the first try, but there were some exam-relevant topics that had not been covered enough in Enthuware! (Concrete example: It is possible to get through the Enthuware questions without fully understanding MEMBER [OF] in JPQL. uCertify did not let me get away with that.) Nothing against Enthuware – it is possible that this test would have worked the other way round in the same way. Simulators have different strengths and weaknesses.
Weaknesses
It doesn't have a direct way of selecting a range of questions. For example I can't easily create a test with questions 1 – 6 of topic X and later questions 7 – 12 of topic X. (To do that, I have to add all questions to the pool, sort by ID, then delete some of them, remember which ones I deleted, do the others later.)
Support. I used the general support, not the one for paying customers, because I am not really a paying customer. My questions were answered only partially sometimes, and one of three support requests was ignored completely. Let's just hope they provide better support for normal customers.
The license is complicated. I asked the support about it, but still don't understand if I can install the product years later on different hardware. An on-line activation is required. I wouldn't recommend buying it if you are planning to use it for longer than a year, unless you sort this out.
Getting the custom tags, an important feature (see above), to work was a challenge. First I tried tags like "1", or "2", and they just didn't show up in the custom test dialogue. Then I tried "a" and "b", still no success. So I tried "11111" (maybe it's a length issue?). Then it showed up, but when I tried to add the questions with that tag, only two or three, it added more than 100 to the question pool. In brief, my impression is that there are certain rules for tags: 1. At least 3 or 4 chars; 2. no numbers (or not only numbers?).
Portability – requires Windows. Maybe one of the thin emulators like Wine can handle it? VMware certainly can.
The integrated help is a single, huge page.
Conclusion
uCertify provides more than Enthuware or Whizlabs. I cannot answer the very important question of which simulator provides the most relevant questions regarding the real exam, and if someone who uses the complete preparation kit of uCertify will get a better result in the real exam than a low budget learner with Enthuware plus free study material. More fun with uCertify – well, that's indeed possible due to the nice user interface and the interactive mentor. The complicated license and poor support are a problem.